The Education You Need, the Speakers You Respect
Benefit from exclusive ICD-10 educational webcasts from the industry's most knowledgeable experts while earning continuing education units (CEUs).
The most important healthcare topics and the industry's most knowledgeable thought leaders come together to help motivate and educate your team to a higher level of inspired performance. And now you and your team will have access to more than 40 carefully-curated educational webcasts on crucially important topics such as E&M, modifiers, Sepsis, COPD, CHF, HCCs, outpatient CDI and myocardial infarctions. And leading the way are some of the most respected thought leaders in healthcare today—Gloryanne Bryant, Deborah Grider, Rose Dunn and Erica Remer, MD.
Subscribing today will help propel your team to code and capture the correct charges for services provided so that your facility receives the revenue to which it is entitled while avoiding audits and take backs. Plus, you and your team members will also earn CEUs to uphold your credentials that will help advance your career.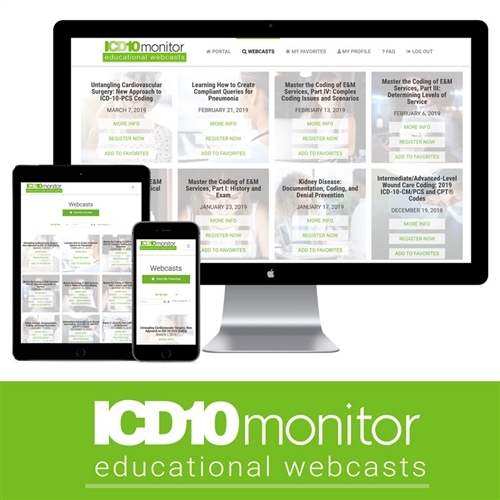 ---
As an ACPA member, receive 25% off when you subscribe for ICD10monitor Educational Webcasts! Redeem this offer as an ACPA member or Join ACPA today!